High Quality China Supplier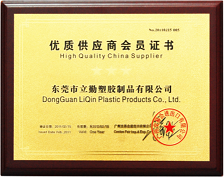 Supplier qualification certificate plays an important role in enterprise bidding and procurement and supplier management.
It is helpful to set clear standards for admittance into the qualified supplier name list, is advantageous to the suppliers to participate in the bidding project qualification requirements, benefit for the supplier carries on the classified administration and promote the suppliers to improve product quality and management ability, put forward the classified collection sorting, standard and system, set up consulting expert database etc. Main measures to strengthen the management of qualification certificates.